Every day during competition in Sochi, we'll highlight a different sport or event, including fun facts and athlete workouts for you to try!
Fun Facts
Nordic Combined events include a ski jumping competition (1 jump) and a 10 km cross-country ski race.
There are three men's events in Nordic Combined: the individual event with a normal hill (NH) ski jump, the individual event with a large hill (LH) ski jump, and the team event, with two jumps from the large hill for each team member and a 4×5 km relay.
The athlete's starting place in the ski race is determined according to the Gundersen method, meaning that it depends on the placement results of the ski jump.
Workout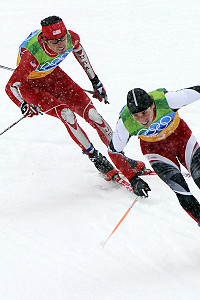 TODD LODWICK, Nordic Combined
To survive the cross country portion of the event, Todd recommends working on your endurance.
Interval Training
If available, train on roller skis over hilly terrain, completing a one-mile run.
No roller skis? Use simulated hikes on a treadmill for an hour.